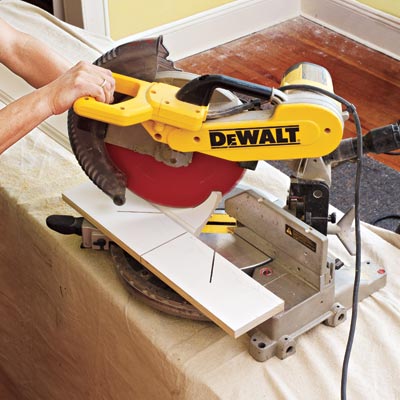 Map the molding's installation, marking a miter, cope, or square cut at the end of each run. An inside corner is formed from a coped end abutting the face of a square-cut piece that dead-ends in the corner of the room. For a tight fit, avoid runs with two coped cuts. (An outside corner is formed from two mitered ends; you'll make those cuts in Step 14.) See this
illustration for common crown molding cuts and joints.
Learn
how to cut molding for an inside corner
. Then watch a video of
Tom Silva using different kinds of saws to make miter cuts
.
Before making cuts, hot-glue a horizontal fence to your saw deck to help the molding stay in place. (
Learn how to make a guide fence
.) To prepare the end of a molding for coping, you'll give it an open-miter cut to expose the profile's face. When using a regular miter saw, always position the molding upside down on the saw so that the miter cuts will be backward.
When you're done cutting the upper molding, pull off the horizontal fence and secure a new one to the saw for the lower molding to account for its different profile.