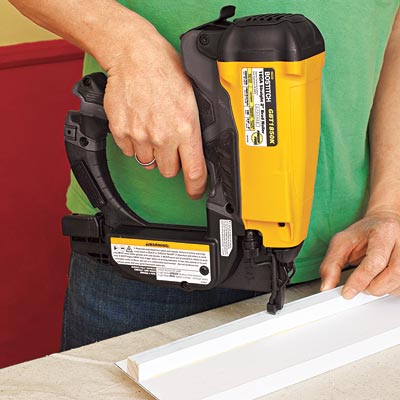 Measure the length of each run and cut fascia and soffit boards to size. If the fascia has a decorative edge, miter the ends of the boards to make the edges match up. The soffits should be mitered first: Make the cuts across their widths so that the long points will rest on the wall for inside corners and the short points will rest on the wall for outside corners. Then bevel the ends of the fascia across their thicknesses to follow the angled ends of the soffits.
Next you'll add nailing strips to keep the attachment of the fascia and soffit square. Cut 1x1 strips for the fascia to size. On the back of each fascia, draw a line 1
¾
inch from the decorative edge so that there's room for a reveal when the soffit is installed. Use wood glue and 1
¼
-inch nails to affix the strip to the fascia along the line.
Tip:
When attaching the nailing strip, nail through one end first and hold the strip to the line as you drive nails along the strip's length. This technique will remove any natural bowing in the strip.