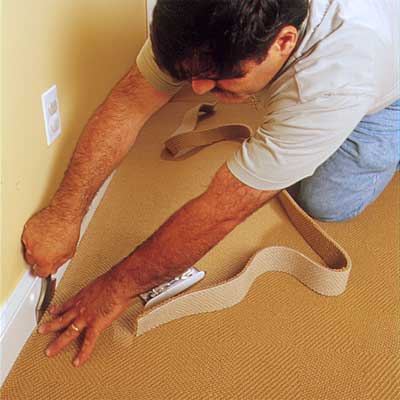 Use a wide-blade carpet chisel and force the edge of the carpeting into the space beneath the baseboard molding. Be careful not to scratch or dent the molding.

With the carpeting secured to the tack strips along one wall, move across the room to the opposite wall and repeat the process: force out wrinkles with the knee kicker, pull it taut with the stretcher, then trim away the excess carpeting. For some types of carpeting or in large rooms, you may need a little extra force to pull the carpeting tight. In those cases, attach an extension pole to the lever-activated stretcher, and extend the pole across the room so that it pushes against the opposite wall.

Once the carpeting is secured along two, opposite walls, repeat the procedure for attaching and trimming the carpeting along the final two walls.