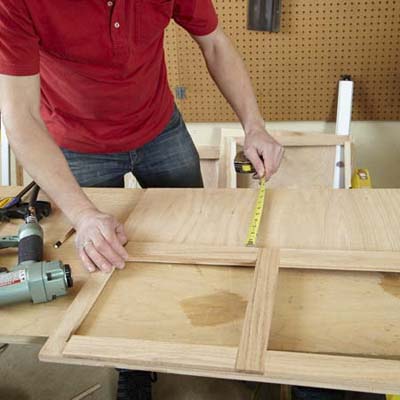 For each side panel, place the vertical center stile in the middle of the window, with the top end is flush with the panel's top edge. Place four rails on each side of the center stile, so they're flush with its top and bottom ends (these will overhang the window's edges by 3/8 inch, creating a lip for the grille inserts to sit against). Place the bottom rail flush with the bottom edge of the panel. Place the corner stiles alongside the rails, flush with the side edges of the panel.
On the back panel, place the corner stiles so that 1
¾
inches of its width rests on the panel and the remaining 1 inch extends beyond the side of the panel. (This creates a place for attaching the side panels to the back when the crate is assembled.) Lay the rails between the stiles, so that the top one is flush with the panel's top and the bottom edge of the middle one is 11
¼
inches from the top. Then lay the bottom stile flush with the panel's bottom edge.
Glue all but the corner stiles in place. Once the glue is dry, flip the panels over and secure trim to the panels by nailing through the panel into the trim using 5/8-inch brad nails.