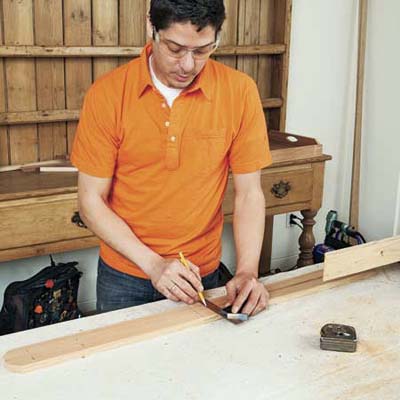 Refer to the illustration for all dimensions. Use a miter saw to make parallel 45-degree cuts on four 1x2s to cut them to size. Cut
¼
inch off the long points at each end. Lay the A legs on the flat and side by side, with the cut-off long points flush at one end, as shown (the short points meet at the other end). Mark each leg's surface as an "outside face." Measure and mark hole and notch locations on both legs. Repeat for the B legs, but mark each leg's surface as an "inside face."
Turn all the legs on edge. Mark each one at the midpoint of the edge, between the marks, to designate the depth of the notch cuts.
Tip:
When marking multiple pieces to be drilled or cut in the same spots, measure off the first one and use a combination square to transfer the marks to other pieces at the same time.