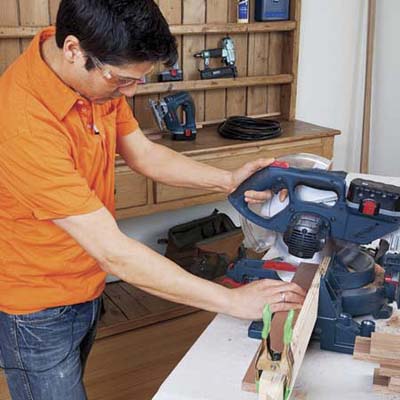 Use a miter saw and a stop block to make cuts of the same length quickly; refer to the illustration for dimensions. For the top tray, cut two 1x4 short sides and two 1x3 long sides. For the bottom tray, cut short and long sides from 1x3s. Cut 19 1x3 bottom boards (nine for the top tray, 10 for the bottom one). Rip a 1x2 in half and cut four ledges to support the bottom boards.
Cut 2x deck pickets to make crosspieces to support the removable top tray. Cut the cart's handle from a 1-inch hardwood dowel. Cut off the corners of the top tray's 1x4 short sides so that each edge is 2
½
inches tall and even with the height of the long sides. Use a wood file to round over the cuts, then smooth the cut pieces with sandpaper and a block.