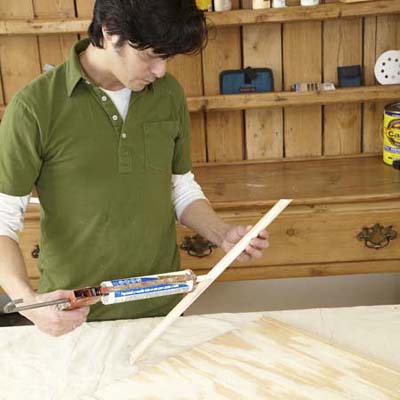 To determine where the end of the corner guard will land at the bottom corners of the beadboard, miter a mock corner from two short pieces of the material, and set it in place on the bottom right corner of the organizer. Measure the length from the tip of the mock corner to the bottom edge of the fascia board. Cut one corner guard to this length from square edge to long point. Cut a second corner guard to the same length, with the square cut on the opposite end.
Apply adhesive caulk to the back of the corner guards, place them on the side edges of the organizer, and secure them to the edges using
½
-inch pin nails. Measure the distance between the long points of the corner guards you just installed, and cut bottom corner guard to this length from long point to long point. Secure it to the bottom edge of the organizer using adhesive caulk and nails, in the same fashion as the sides.