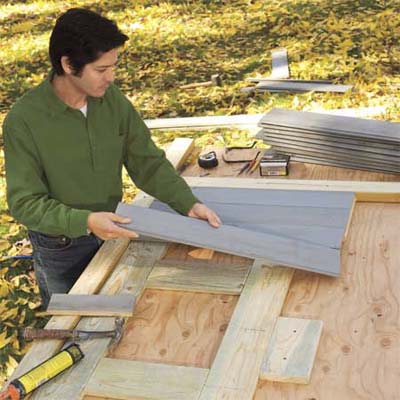 Because the framing pieces for the roof lids are not screwed to one another, the roof frames are held together only by the sheathing attached to them. So to build the roof lids, you need to assemble the frame, then keep it aligned and square until the sheathing is screwed down. For this you'll need a jig, a template that surrounds the frame pieces and secures them. Screw 2x4s, square to each other, along the corner of your work surface to act as the first stops.
Instead of building separate lids, build one solid roof and cut it in three. Cut two deck boards to 80 inches and lay them parallel and against the stops. Between these two rails, evenly space four deck boards cut to 20 inches. Screw scrap wood to the table, tight against the frame, to complete the jig.
Cut enough siding boards to fit across the frame, making them 37 inches long. As with the siding, dry-fit the pieces. Make sure that a seam doesn't fall on a middle framing board.
Rip the first board down to size on the groove side. Starting at the left side, glue and nail the board to the frame with its tongue facing to the right and the bottom edge flush with the frame.
Install the rest of the roof sheathing in the same manner as on the sides. Face-nail the last board.
Flip the roof over. Screw 1 5⁄8-inch deck screws through the framing and into the sheathing for added strength. Measure and mark a line down the center of each of the two middle framing pieces. Using a jigsaw, cut the roof into three parts at these two marks.
Build the doors in the same manner as the roof. Start with two long boards cut to 80 inches. Separate them with five boards cut to 27 inches. Create a new jig for this frame. Sheathe it with boards cut to fit from the ground to the underside of the roof, minus the
¾
inch needed to create a gap at the base. Cut the sheathed frame apart to make four doors.