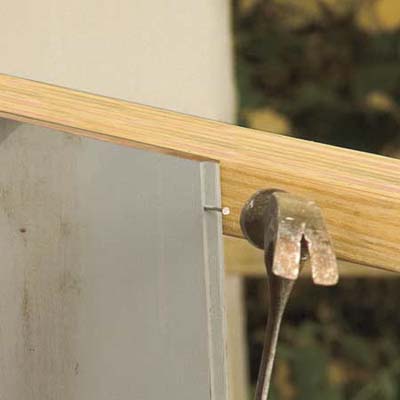 Raise the frame off the ground onto flat stones, pavers, or tiles so that the wood rests on masonry and can't come in contact with water. Shim the frame until the front supports are plumb and the front crosspiece is level when the back sits against the house.

To square up the frame, measure the inside of the frame from corner to opposite corner in both directions. If one measurement is longer, push the corners closer together until the measurements are equal.

So that you don't end up with a sliver of siding as your last piece, dry-fit the pieces of siding across the side and adjust them until the two end pieces are relatively even. Mark a piece to fit in the space closest to the house.

Rip this first piece down to size on the groove side. Set the cutoff strip on the ground along the base of the side frame and rest the siding on it as you sheathe the shed. This will create an even gap at the bottom of the shed to keep water from wicking up the siding.

Hold the cut edge of the first piece against the house, with the base of the board resting on the cutoff strip on the ground. Mark the roof angle on the board and cut the board at the mark.

Apply construction adhesive to the frame, and press the first board in place on the adhesive. Nail it at an angle through the inner edge of the tongue and into the framing using 1 5⁄8-inch stainless-steel siding nails. Sink the nailheads with a nailset.