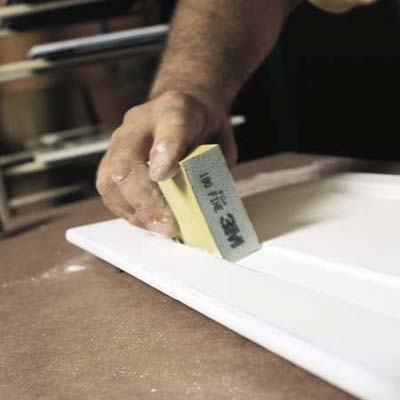 The strategy for prepping and painting doors, drawers, and shelves is the same as on the cabinets, except that all the work is done on a table to reduce the chance of drips, runs, and sags. Paneled doors pose some special challenges; here's Dee's approach.

Follow the same prep sequence as for cabinets—clean with deglosser, fill the holes, sand, vac, and tack—and the same priming sequence: in this case, two coats of brushing putty. Smooth the flat surfaces on the panel and the frame with a random-orbit sander. On bevels or profiles, apply elbow grease and a medium-grit sanding sponge. Spackle and sand any dents.

Pro tip: When priming or painting paneled doors, brush in the following sequence to get the best-looking surface in the least amount of time: start with the area around the panel, then do the main field of the panel, then finish with the stiles and rails around the edges. As you go, wipe up any paint that ends up on adjacent dry surfaces. This eliminates the chance of lap marks.