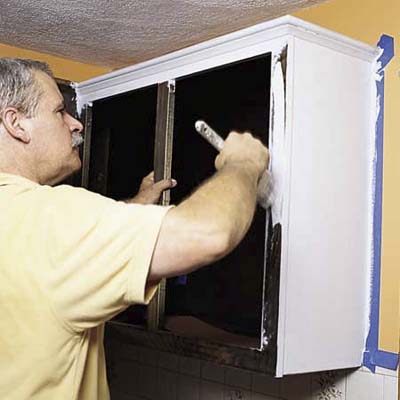 Slow-drying, oil-based primers work fine on tight-grained woods like maple or cherry, or on man-made materials. But they just sink into open-grained woods such as oak, ash, mahogany, or hickory. Brushing putty, the pudding-thick, oil-based coating Dee used on these oak cabinets, fills the grain as it primes the wood. A couple of caveats: It should be applied with a good-quality nylon-polyester brush, which you'll have to throw away after each coat. And it doesn't become level as it dries; assiduous sanding is required to flatten it out.

Starting at the top of the cabinet, brush on the primer or brushing putty across the grain, then "tip off"—pass the brush lightly over the wet finish in the direction of the grain. Always tip off in a single stroke from one end to the other. Give it a day to dry. (If using brushing putty, apply a second coat the next day and wait another day for it to dry.) Sand the flat surfaces with a random-orbit sander and 220-grit paper. Sand any profiled surfaces with a medium-grit sanding sponge. When you're done, everything should be glass-smooth.

Pro tip: Follow the underlying structure of the cabinet or door with the brush. Where a rail (horizontal piece) butts into a stile (vertical piece), for instance, paint the rail first, overlapping slightly onto the stile. Then, before the overlap dries, paint the stile. Where a stile butts into a rail, paint the stile first.