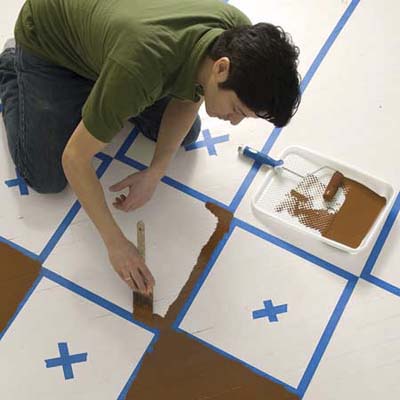 The tape around each square is an excellent guide for painting, but an uneven wood floor is a difficult surface on which to tape. So to help keep paint from bleeding under the tape, cut in the edges of each square with a brush. You can speed up the finish with a mini roller.
Using a sanding sponge, lightly sand the squares to be painted and wipe them clean. Using a 2
½
-inch paintbrush, apply paint around the edge of the square. Start each stroke on the tape and pull it into the square so that the color doesn't push under the edge. Coat the entire perimeter of the square this way. While the edges are still wet, fill in the field using a mini roller. Roll the paint on in the same direction as the floorboards. Continue painting the squares in this manner until the floor is finished. Clean up any drips or mistakes by wiping them up with a damp rag while they're still wet.