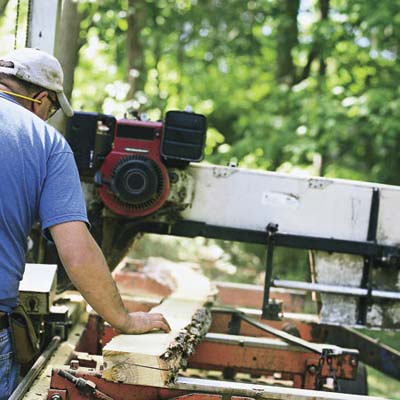 Suburban trees felled by arborists generally meet one of three fates: the chipper, the landfill, or the fireplace. But a resourceful homeowner with logs containing enough solid, useful wood can hire a sawyer to mill them into lumber on-site, defraying hauling fees, labor costs of chopping it into firewood, or the expense of buying lumber retail. After drying, the wood can become flooring, furniture, trim, fencing, or other features around the home.

The owners of the black locust in this story, reluctant to see so much wood go to waste, contacted a local woodworker and boatbuilder, Aimé Fraser, to see if she had any use for the hard and exceptionally rot-resistant wood. Fraser jumped at the offer and called sawyer Larry Oliver, arranging to pay him for the milled wood. On felling day, Oliver showed up with the 1,800-pound portable band saw that he tows behind his truck, and methodically ripped the logs into about 300 board-feet of 2-inch-thick planks. "I'll mill anything between 6 and 30 inches thick," says Oliver.

The deal saved the homeowners from paying to cut the trunk into 18-inch-long logs for firewood (about $260) and cost Fraser, who hauled the boards away, only $150. "To buy it commercially, I would have paid nearly ten times that," she says. After about two years of seasoning, the wood will be dry enough for her to use. "I have enough now to make cleats and breasthooks for a dozen sailboats."