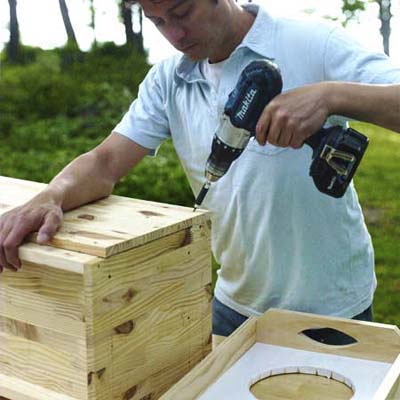 Using 1 5/8-inch trim head screws, glue and screw a 1x2 base support between the two 13
½
-inch-tall sides, flush with the back and bottom edges. Screw another 1x2 base support flush with the bottom edge and
¾
-inch back from the front edges. Screw a 1x3 top support flush with the top and front edges and another flush with the back and top edges.
Set the bottom of the box onto the base 1x2s. Draw a line across each side 2 inches from the bottom to act as a fastening guide. Screw through the line and into the edge of the bottom piece to secure it through the sides. Attach the back of the box flush with the top edge of the sides and over their back edges, leaving the bottom 1x2 base support exposed.
Attach the top of the box below the 1x3s by marking a second line on each side as a fastening guide.