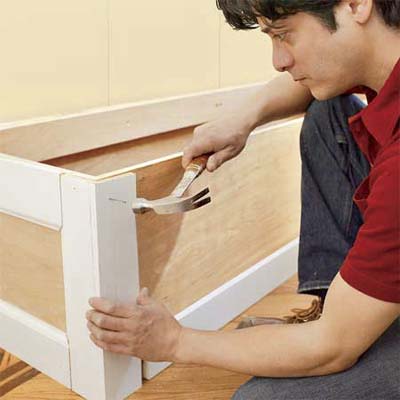 For the stiles (vertical sides) of the panel frames, cut seven 16-inch strips of 1x4. For the horizontal rails, cut four pieces of 1x4 at 10 3/4 inches and four pieces at 30
¼
inches.
Where two stiles overlap at the corners, the stile on the side of the box has to be narrower than the one on the front so that the paneling looks the same width all around. Using a circular saw or handsaw, rip 3/4 inch off the width of two of the stiles.
Starting with the stile that slides against the back wall on the sides of the box, glue and nail the 1x4s to the box using 3d nails. Align the edges of the 1x4s with the edges of the box. Use the narrower stile at the front corner.
To create a profile on the inner edge of the 1x4 framing, cut panel molding to fit inside the 1x4 rectangles. Miter the ends of the molding. Nail the molding to the box, tight against the 1x4s, with 2d nails. Frame the other side of the box in the same way.
Trim the front of the box by creating two frames joined by a single piece of 1x4 in the center. Overlap the 1x4s at the corners flush with the side paneling. Fit the panel molding inside the frame.