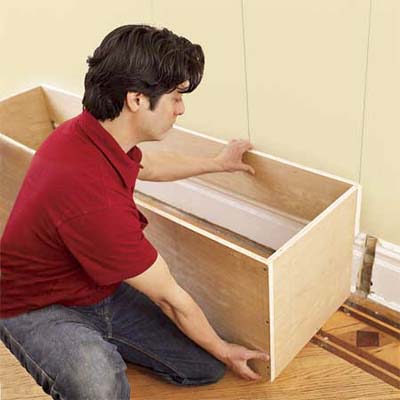 The bench seat starts with an open-bottom plywood box. To make the four sides of the box, rip two 16-inch strips from a sheet of 3/4-inch plywood using a circular saw. Cut the strips into panels: two at 69
½
inches and two at 15
½
inches.
If you have a baseboard, measure its height, then rip that amount off one of the longer pieces. This strip becomes the back of the box, shortened so that it can rest above the baseboard.
Assemble the box—side panels between the front and back panels—using glue and 1 5/8-inch deck screws.
Place the box in front of the baseboard. Mark where the sides of the box meet the molding. Remove the box, and, using a reciprocating saw, cut the baseboard 3/4 inch on either side of each mark to make 1
½
-inch notches that fit the sides of the box with the molding applied to it.
Find the studs in the wall and mark their location. Guided by a level, extend the marks 7 feet up the wall.
Slide the box into place. Position it so that the sides fit into the notches. Shim the box to level it if necessary. Screw the box to the wall at the studs with 2
½
-inch deck screws.