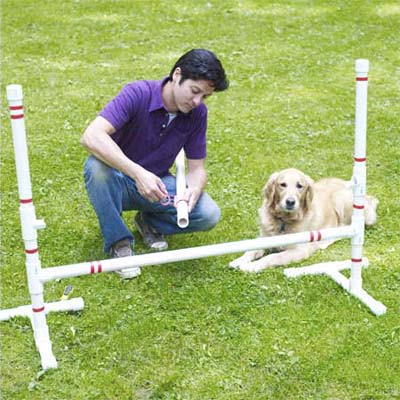 Assemble one side of the jump in this order: tee, 5
½
-inch pipe, cut tee, 6
½
-inch pipe, cut tee, 15
¼
-inch pipe, and end cap.
Using a block and a hammer, push each connection together until the pipe rests against the shoulder inside the connectors. The center of each cup should sit 8 inches and 16 inches from the ground. To hold the sides upright, insert a 12-inch pipe into each outlet of the bottom tee; fit one with an end cap and one with another tee. Push two 12-inch pipes fitted with end caps into the base tee to steady the assembly.
Assemble the second side. Connect the two sides by resting a 48-inch pipe between them. Wrap four strips of red tape around each jump bar and several around each side to increase the jump's visibility.