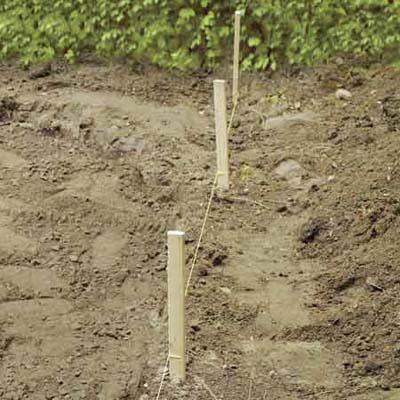 The patio must slope away from the house or other structure to direct runoff away from the foundation. Grade the slope about 1/8 inch per foot
keep track by running a mason's line at the proper slope and measuring down from it as you dig. You have to dig deep enough to remove the dark topsoil layer—how deep depends on the soil conditions in your area. But you must go down at least 6 inches to accommodate the base.
To create a graded line, set stakes a few feet deep at what will be the high and low corners of one side. Moving a level along it as a guide, run a level mason's line between the two stakes about
½
foot above the ground. Multiply the length of the side in feet by 1/8 inch. Move the line on the low-side stake down by that amount. For example, if the side is 5 feet long, lower the string 5/8 inch.
Set two stakes on the opposite side of the patio. Using a level, transfer the height of the line from the top and bottom across, then connect the sloped line on the other side at the same height as the lengthwise lines.