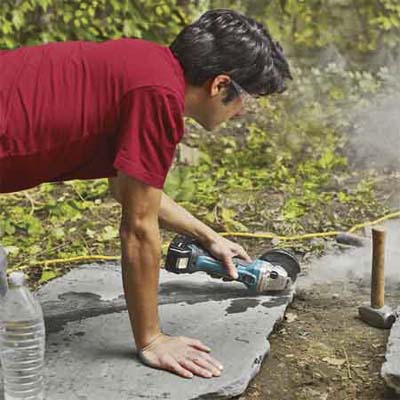 Whether you're building a patio with rectangular slabs or with broken pieces like the one shown here, laying out the stones to perfect your pattern before starting the installation will save headaches later on. Random patterns may require you to cut some pieces to fill in blank spaces.
Using a rope or garden hose, outline the shape of the patio. Beginning on one edge, lay the largest stones around the field; fit smaller stones in between; leave joints of 1
½
to 2
½
inches.
To cut a stone, flip it over and mark the underside for the cut. Using a grinder fitted with a diamond blade, score along the cutline. Prop up the stone on a stone you don't intend to use, with the waste edge hanging over, and hit it with a brick hammer to break it naturally along the score. Or set a mason's chisel in the score, and hit it with a maul to snap the stone.