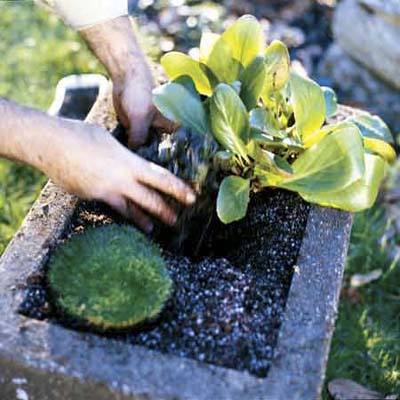 You can fill your trough with just about any growing thing. Traditionally, they're used for rugged alpine plants, which thrive in the porous containers. Small and slow-growing, yet with beautiful flowers, alpines are well-suited for the limited confines of a trough garden. Good choices are herbaceous perennials and dwarf shrubs and conifers. The important thing when choosing plants is to consider scale and growing habits; you don't want aggressive spreaders that will take over the trough.

The best planting mixture for alpines is organic soil with sand, grit, and small stones. A layer of gravel at the bottom of the trough is optional but will improve drainage. Before filling the trough, put a small piece of wire mesh over each drainage hole to keep it clear. And be sure to leave space in the trough for some native rocks—in addition to looking nice, they imitate the alpine environment, protecting plants from the ravages of wind and extreme temperature swings.

Speaking of temperature swings, try to keep the trough shaded in winter to limit repeated freeze/thaw cycles, which can do damage to plants and also shorten the life of the trough.