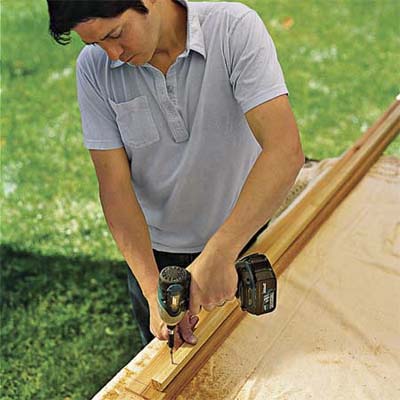 The lattice panels that make up the climbing portion of the trellis float freely between two stops of 1x1s attached to the 2x4 frame. Because this sandwich of strip, lattice, and strip is thinner than the 2x4, it creates a stepped-down reveal between the frame and the lattice, which must be consistent all the way around when viewed from the front.
Using a circular saw, cut four 1x1 strips to fit between the uprights. To create the vertical stops, cut four strips to the length between the notches on the sides, minus 1
½
inches. Set the stops on the 2x4s, positioning them
¾
inch away from the edge by holding a 1x scrap as a spacer (the true width of 1x material is
¾
inch). Using a drill/driver, screw the stops to the inside of the frame with 1 5/8-inch screws.
Pro Tip:
Assemble larger trellises near the site so that you won't have to transport the heavy piece too far.