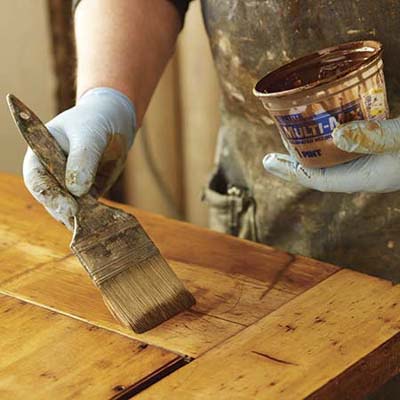 To even out the maple's blotchy color, Thomas brushes on very thin coats of a water-based glaze that he mixed himself using dyes and pigments. The wood gets darker with each coat he applies; in this case, it takes two glaze coats for Thomas to approximate the original mahogany stain. But he can't just apply a glaze over a glaze, because the two would dissolve into each other and smear. So after the first coat of glaze, he wipes on a barrier of 1 part gloss spar varnish diluted with 2 parts thinner.

The invention of modern penetrating stains in the 1960s made it easy for homeowners to get a consistent color, but those stains work best if a clear sealer of lacquer or shellac is applied to the wood first.

Pro Tip: Maple, cherry, and pine don't absorb stains evenly, but you can give these woods a uniform color with aniline dyes.