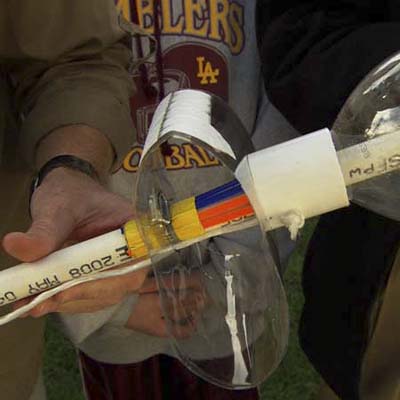 Using scissors, cut the top and bottom off a 2-liter soda bottle. Flatten the bottle section without creasing it and cut a 1
¼
-inch hole through both sides. This spring will hold the trigger in position until you're ready to launch.
Drill a small hole in the side of a short scrap of 1
½
-inch PVC pipe. Thread the end of a 4-foot piece of string through the hole and tie a knot on it to keep it from coming out. This pipe is the trigger.
Remove the bottle from the end of the pipe. Slide the plastic spring onto the pipe, over the cable ties, and up against the pipe clamp. Then slide the 1
½
-inch PVC scrap over the pipe and cable ties. Thread the string through the holes in the plastic spring. Tape the other end of the string securely to the pipe with duct tape.
Test this trigger mechanism by pulling on the string. The PVC trigger should drop, allowing the cable ties to open up. When you let go of the string, the spring should push the trigger up and over the cable tie ends.