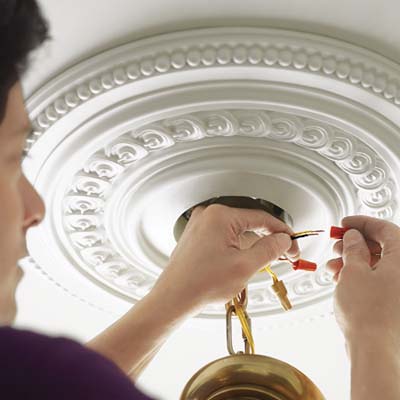 Unscrew the mounting bar and nipple from the junction box. Tighten nuts onto the nipple on either side of the mounting bar to secure it. Feed the fixture's wires through the nipple and out the mounting bar. Screw the nipple/mounting bar assembly to the light fixture.
Using wire strippers, remove
½
inch of insulation from the fixture's wires. Lift the fixture in place, and have a helper hold it. Screw the mounting bar to the junction box. Thread the wires over the top of the mounting bar and back down out of the ceiling.
Wrap the bare copper from the junction box around the mounting bar's grounding screw and tighten it. Then twist its end together with the fixture's ground wire, green or bare, and secure it with a wire nut. Determine which of the fixture's wires connects to the neutral wire; look for a wire with silver strands or one whose insulation is white, ridged, or has writing on it. Then twist it onto the ceiling's white wire and secure it with a wire nut. Connect the other (colored or smooth) wire to the black wire coming from the ceiling.
Push the canopy into place, and tighten the collar nut underneath it to secure it against the medallion. Restore power to the fixture.