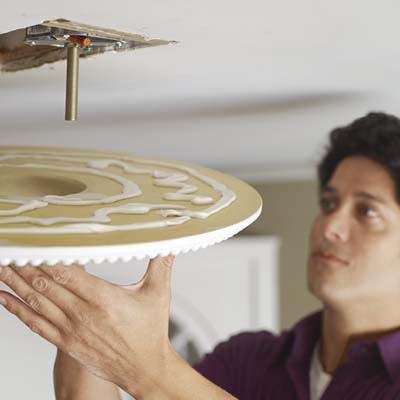 Turn the medallion facedown and, using a caulk gun, apply a bead of adhesive caulk over the entire back. Stick the medallion in place on the ceiling, centering it over the junction box.

While the adhesive is wet, screw the canopy to the nipple and tighten it enough to act as a clamp to hold the medallion to the ceiling. Adjust the medallion as necessary to be sure the canopy is perfectly centered. Using a drill/driver, drive two trim-head screws through the medallion and into the ceiling to hold it in place while the adhesive sets. For medallions larger than 30 inches, use more screws. Drive the screws in a discreet location in the medallion's pattern, and let them sink a little below the surface to hide them. Remove the canopy.

Fill the screw holes with a dab of caulk, and caulk around the edge of the medallion if there are any obvious voids between it and the ceiling. When the caulk is dry, touch up the screw holes with paint. Also touch up the ceiling if necessary.