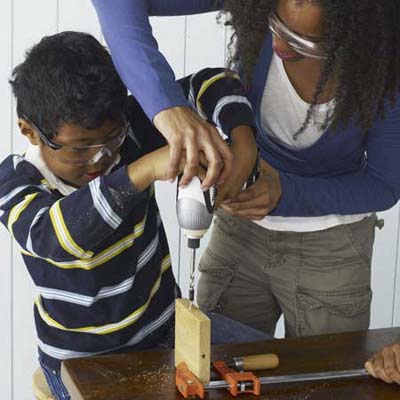 Turn the 4
½
-inch square on edge, and hold it steady with a bar clamp. Drill a 

¼
-inch hole about
½
inch deep into the center of the square's edge. Repeat until you have a hole on each edge.
Glue 4-inch-long perches into the holes.
Glue and nail the other circle onto the square with the perches.
On the square side of the circle/square pair, drill a
¾
-inch-deep hole into the center with a
½
-inch spade bit. Exchange the spade bit for a
¼
-inch bit, and drill all the way through the pair. The bigger hole will help hold the hanging wire in place.
Hey, kids!
Here's a trick to find the center of the square: Just draw a diagonal line from each corner to the opposite corner to make an X on the face of the square. The place where the lines intersect is the center.