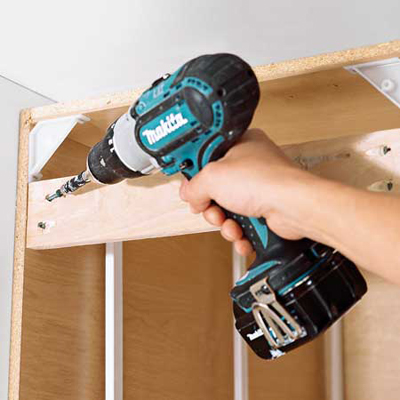 If you're working with open-topped cabinets, you'll need to install blocking so there's something to screw the butcher block to. Using a handsaw, cut plywood or 1x scrap to fit tightly within the width of the cabinet. Using a drill/driver fitted with a FRACTION 1/8-inch bit, drill angled pilot holes, about
½
inch away from the edges, that go through the top of the blocking and out the cut ends. Fit the blocking in place at the front of the cabinet. Secure it to the cabinet with 1
½
-inch deck screws through the pilot holes.
If your cabinets have solid tops, you need to glue down furring strips. Using a handsaw, cut strips of
¼
-inch plywood to fit 2 inches shorter than the depth of the cabinets. Lay these strips every 16 inches across the cabinet tops, sticking each down with a bead of kitchen and bath sealant.
TOH Tip:
To make an angled pilot hole in the blocking, first drill a little starter hole straight down, then pull the bit out and reposition it at an angle in the hole.