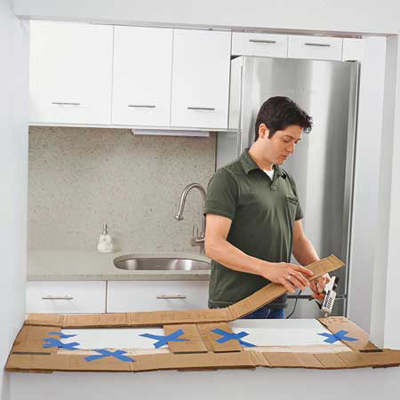 Tape more strips of cardboard along any seams between cabinets to show where they fall. Mark which face is the top of the template and indicate front, back, and sides. Also note on the template which edges should be shaped in a profile and which will be straight cuts.

Once all the pieces are taped in place, mark all the joints between strips with reference lines that run across the seam of the adjoining pieces. Using a hot glue gun, carefully secure each intersection, making sure to realign the reference marks.

When the glue is dry, untape the template, then carefully fold it up and send it to the manufacturer with your butcher-block order.

TOH Tip: Mark centerlines on the width and length of any sink or range cutouts, and writes their factory measurements directly on the template. Also send along manufacturers' product spec sheets (available online).