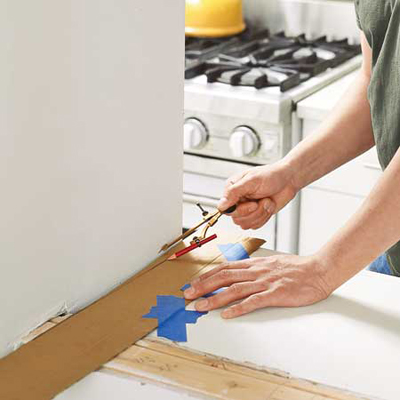 Open a compass so its legs match the widest gap between the cardboard strip and the side wall. Run the tip of the compass along the wall, with the pencil on the cardboard, to transfer the contours of the wall to the strip.

Using a utility knife, cut the cardboard along the scribe line. Push the strip back tight against the wall, using the combination square to verify the overhang depth. Retape the strip in place. Make a second strip in the same manner for the opposite side of the counter.

Cut a longer strip to fit along the back wall, and scribe it if necessary. Tape it in place between the two sides. Create another long piece with a perfectly straight edge to act as the front of the template. Double-check that the countertop overhang stays consistent between the edge of this piece and the cabinet fronts as you tape it down.

TOH Tip: For larger countertops with sinks or ranges, tape down strips to outline where the rough openings for the necessary cutouts should go.