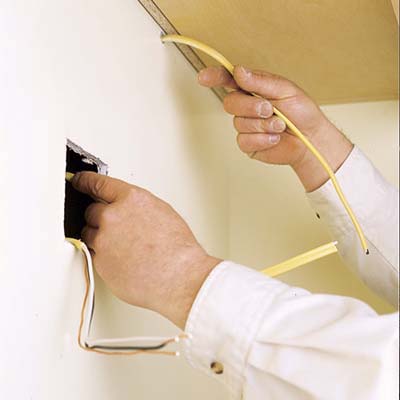 Hold the light fixture in place and locate the prescored knockout hole in the back.
Mark the wall straight out from this "knockout" plug. Use a stud finder to see if there's a wall stud between the mark and the hole for the electrical box. If so, move your mark to the other side of the stud.
Use a
½
-inch-diameter spade bit to drill through the wall directly below the upper wall cabinet.
Cut a length of 12/2 NM (nonmetallic) electrical cable long enough to reach from the
½
-inch hole to the two-gang box hole, plus 24 inches.
Feed one end of the cable into the
½
-inch hole bored in the upper backsplash wall.
Then gently reach into the hole where the electrical box will be installed, grab the cable end and pull it through into the kitchen.