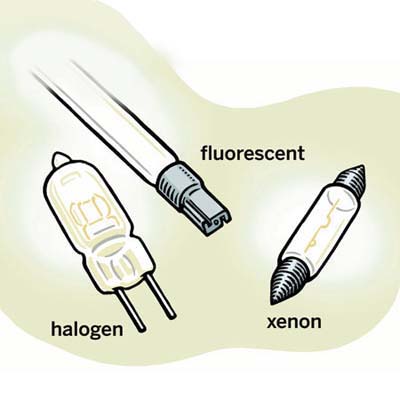 There are three basic types of bulbs used for undercabinet lighting:
fluorescent, quartz-halogen, and xenon.

Fluorescents burn cooler, use less electricity, and are more affordable; but they can hum, flicker, and produce a yellowish light. Choose a fluorescent fixture with a high-quality electronic ballast for quick starts and quiet operation, and use a cool-white bulb. Fluorescent fixtures operate at regular line voltage (120 volts).

Halogen and xenon bulbs cost more to operate and replace, but they emit a very bright white light. Halogen's light is brightest, but xenon burns cooler and lasts longer. Xenon fixtures use low voltage; a transformer steps the voltage down from 120 to 12 or 20 volts. Halogen fixtures come either way. If choosing low voltage, look for a fixture with a built-in transformer.