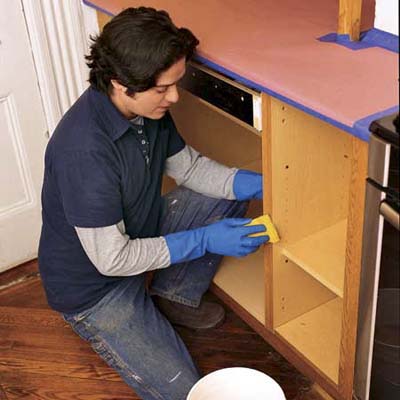 Cover the countertop adjacent to the cabinets with rosin paper and painter's tape. Cover the backsplash with 0.5-millimeter plastic.

Flag each cabinet door or drawer and its corresponding opening with matching numbered pieces of tape so you'll know which piece goes where. Remove all pulls and knobs, and then unscrew hinges from both the cabinet boxes and the doors. Pull out the drawers and, if possible, unscrew the fronts.

Using a sponge and the appropriate cleanser, wipe down the doors, drawer fronts, and cabinet frames wherever you plan to paint.

Tip: If you're reusing your old hinges, also flag the paired hinges with their doors and location for easier reinstallation.