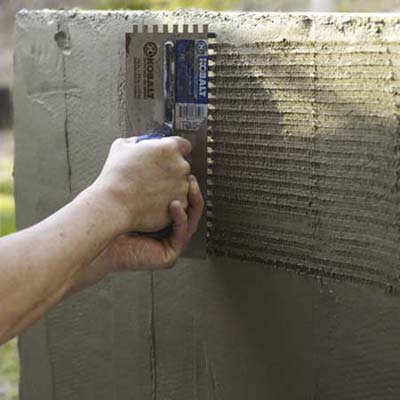 When the scratch coat is firm to the touch, score the surface horizontally using a
½
-inch notched trowel. Start at one of the island's short ends and position the trowel vertically and on edge. Tilting the trowel 45 degrees, score all the way across the short side and continue around to the front. Make one pass all the way around the island; keep the lines as straight and parallel to the ground as you can, so you can use them later as guides for setting the stone.
Continue scoring the scratch coat in single passes that wrap all the way around until all the mortar is grooved.
Let the mortar cure for at least 24 hours.
Set the cabinet boxes into the openings, pushing each back until the flange butts against the mortared face of the island. Secure the box through the bottom and into the base framing with 2-inch deck screws.