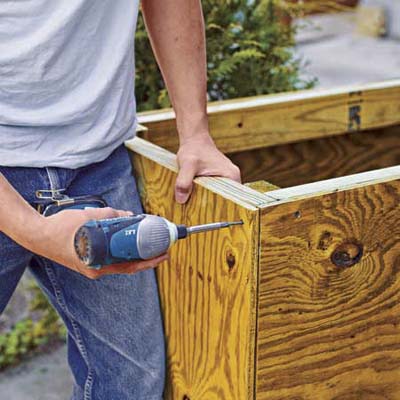 Screw the three boxes together side by side.
Flip the frame over and screw a metal post standoff to the bottom of each post to act as feet.
Using a circular saw, cut plywood panels to fit the dimensions of the frame. Run a bead of construction adhesive along the posts and stretchers. Lay the plywood over the adhesive and screw it to the 2x4s with 2-inch deck screws. Leave openings in the sheathing to match any cabinet openings.
For the cabinets, create boxes out of plywood to fit within the depth of the framing. Hold them together with construction adhesive and 1
¼
-inch deck screws. Build in a 1-inch-wide, 1
¼
-inch-deep flange around the front of each box. Set the boxes aside.