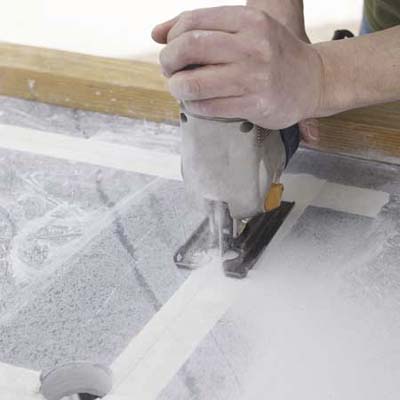 Measure in from the end of the cabinets to determine the positioning of the sink and transfer those measurements to the slab. Make sure there are at least 3 inches left between the cutout and the edge of the stone. Mark the location of the sink cutout (and any other necessary cutouts, such as for a stove top) on masking tape stuck to the surface of the stone.

Using a drill/driver fitted with a 2-inch diamond hole saw, make holes inside each of the four corners of the cutout.

With the aid of a helper, lift the soapstone onto sawhorses. For support, clamp 2x4s underneath the stone in front of and behind the cutout outline. Using a jigsaw fitted with a metal-cutting blade, cut the stone along your marks on the two short sides of the layout.

If you are installing an undermount sink, which leaves the edges of the cutout exposed, smooth them over using a random-orbit sander fitted first with 100-grit paper, then with 220-grit paper.

TIP: After you've made a small groove with the hole saw, stop cutting and wedge an ice cube inside the saw to cool the blade and keep dust down as you drill.