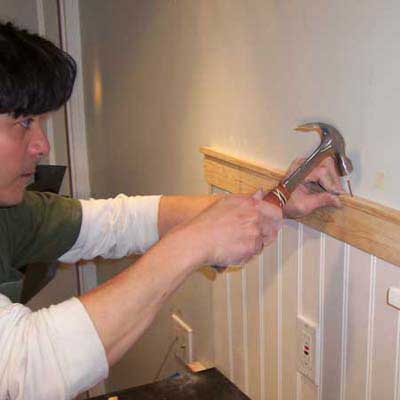 Cut a strip of lattice to fit against the vertical edge of the panel left exposed. Apply a bead of adhesive caulk to the edge and stick the strip in place, laid flat. Face-nail the lattice strip to the wall with a 1
½
-inch finish nail.
Cut a strip of 1x3-inch pine to the length, plus 1/4 inch, of the top edge of the surface to be capped—including the side trim.
Lay a bead of adhesive caulk across the top edge of the solid backsplash surface. Stick the strip in place and face-nail it to the wall with finish nails.
Finally, cut a strip of lattice to the length of the 1x3 strip, plus 1/4 inch. Position the lattice on edge, above the 1x3 strip. Nail it in place with finish nails angled through the top of the lattice into the 1x3.
Set the nails below the surface of the wood. Prime and paint the trim to match the backsplash.