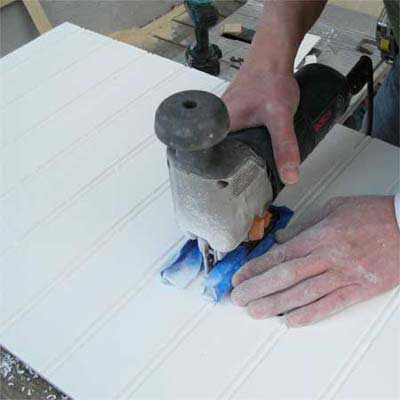 Lay the panel on a piece of plywood or 2x4s set on sawhorses for full support. Using a circular saw fitted with a diamond blade (set just beyond the depth of the material), cut the outline of the backsplash. Cut on the inside edge of your traced outline.

Using a drill/driver fitted with a 3/8-inch masonry bit, drill pilot holes inside the four corners of any cutouts. Using the jigsaw with a metal-cutting blade, slot the blade into the holes and cut out the piece. Use the pilot holes to turn the blade.

TIP: If you're working with a patterned material, cut the panel faceup to be sure your cuts fall in easy-to-match-up areas. Just make sure to cover the shoes of your saws with tape to keep them from scratching the backsplash.