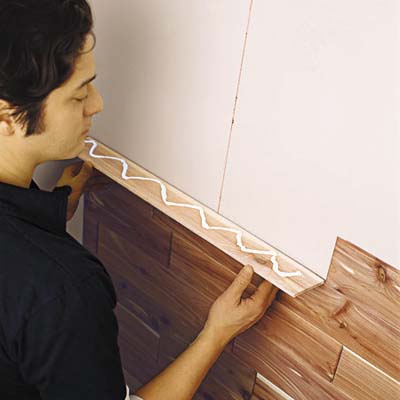 Once the first course is in place, measure the length of the wall before installing each row and, using a miter box and handsaw, cut the boards to fit. Many boards have a rabbet on either end so they can interlock with the next board in the row. If possible, use the off-cut of one board to start the next row, so the two boards interlock. Dry-fit each row before installation.

Apply a zigzag bead of adhesive to the back of the board. Tip the groove of the board over the tongue of the last row to fit them together. While the adhesive is still wet, check the board for level and make adjustments as necessary. Nail the board in place.

Continue installing boards in this manner until the back wall is covered. Then install the cedar on the sidewalls, allowing the back edge of the boards to cover the cut ends at the corners. Be sure that sidewall rows line up with the rows on the back wall, or the mismatched seams will appear crooked at the corners.