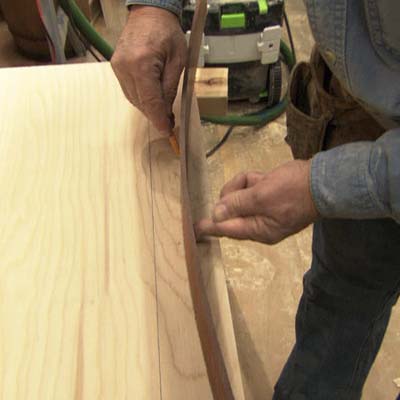 Cut a piece of plywood to 30
½
inches. Place this board good side down. Mark off a width of 2
½
inches across the plywood, but don't rip it to this width yet.
Find the center of it and measure up from the bottom 1
¼
inches at this point. Make a mark. Then place the board over another scrap piece of wood. Tap a nail into the scrap wood 1
½
inches from each end of the toe kick and butt the bottom of the toe kick against the nails. Place a strip of
¼
-inch-thick hardboard in front of the nails, then push the center of it back until it meets the center mark to form the shape of the arch. Trace along the bent hardboard to mark the arch onto the toe kick.
Using a jigsaw, cut the arch. Then, using a circular saw, rip the toe kick to 2
½
inches.
Mark and cut arches into the two side pieces in the same manner. To make sure the side arches are even, clamp the pieces together and cut them at the same time.
TIP:
It's easier to cut a curve in the toe kick before it's ripped down to its narrow width.