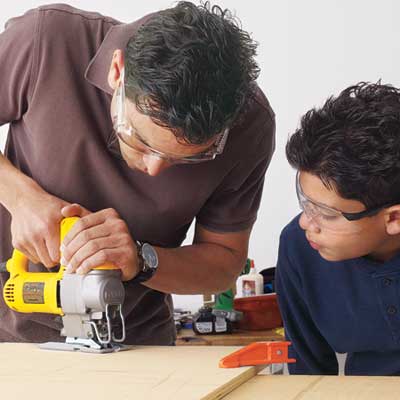 Using a tape measure and straightedge, lay out the chest's nine individual pieces on a half sheet of
½
-inch birch veneer plywood: front, back, two sides, bottom, two roof sections, and two gable ends, using the measurements in the illustration.
Clamp the plywood to a worktable. Using a jigsaw, cut the front, back, two sides, and the bottom pieces.
To make the roof pieces, set the saw blade at a 26-degree angle. Cut along one long edge of each roof piece at that angle; when mated together, these cuts will form the angle of the peak. Cut all the other edges with the blade set straight at 0 degrees.
On each side piece, mark out a 3-by-3-inch square for the handle. Drill
⅜
-inch holes inside the four corners of each square to fit a jigsaw blade. Using a jigsaw, cut out both squares. Also cut a
⅛
-by-
½
-inch notch on the top back corners.
Cut each gable out of a 4-by-18-inch piece of plywood. Clip
½
inch off the back corner to match the notch in the side pieces.