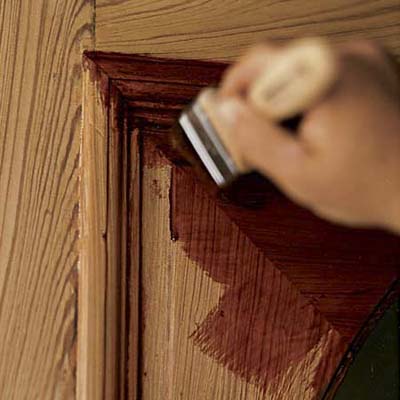 Soak a new China-bristle brush for a minute or two in paint thinner, then spin or knock off the excess. Pour some finish into a clean bucket and dip the bristles about a third of the way into the liquid. Start on the panels, then move to the surround­ing moldings. Coat the horizontal rails next, and finally the vertical stiles. If any finish ends up on a dry surface out of sequence, wipe it off immediate­ly with a rag. Let the door dry overnight before closing it completely.

What Finish to Use
Nothing beats paint for practicality. Two coats of enamel paint over a primer will provide a wood door with the best and longest-lasting protection against sun, abrasion, and weather—about 8 to 10 years. But a beautiful wood door with a clear finish will attract many more admiring glances, as long as you maintain it with devotion.

Spar varnish has long been the clear finish of choice for exterior wood because of its elastic toughness and ability to stand up to the sun. But now many different and effective formulations have made it to store shelves. Look for one specifically for outdoor use and loaded with UV-protection; Dee used Sikkens' Cetol Door & Window on this project. Then follow the application instructions and maintenance regimen to the letter.

A clear finish typically needs a thorough sanding every few years to remove its sun- and weather-damaged top layers, followed by a couple of fresh top coats. Neglect it, and the base coat will eventually lose its grip, leaving you with a graying, peeling mess. At that point, a complete refinishing is your only option.