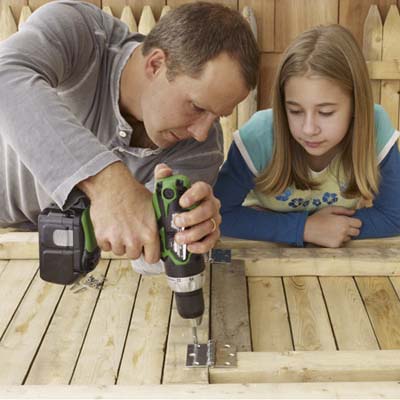 Draw an outline on the front of the one fence section where you want the 2-foot-square hatch to go. Position it between the two brace pieces, with its side edges falling between pickets. Drill
⅜
-inch holes to mark the door's four corners.
Flip over the section and transfer the hatch outline to the back, using the small holes as guides.
Measure between the brace pieces, and cut a 2x4 to that length. Position it between the braces, along the outside edge of the outline, on the side from which you want the hatch to swing. To attach the 2x4 to the back, screw through the front of the fencing with 1
⅝
-inch screws every 6 inches down the middle of the picket.
Cut two more 2x4 pieces to fit inside the top and bottom edges of your hatch outline. Screw these onto the back of the fencing in the same manner. Cut a fourth 2x4 to fit between the top and bottom pieces and up against the first 2x4. You now have a frame to hold the pickets onto the hatch door.
Attach hinges between the short and long 2x4s along the side of the hatch.