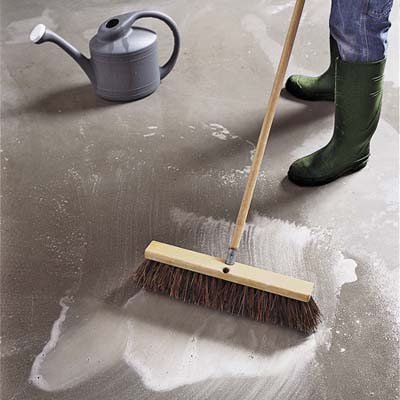 For new or bare concrete: Mix the etching solution with water in a plastic watering can, following the manufacturer's directions. Make sure to wear protective gloves, rubber boots, and safety glasses when working with the chemicals.

Wet the floor with a garden hose. Pour the solution over a 10-by-10-foot area in the corner farthest from your exit point. Using a bristle broom, scrub the area in one direction, then go over it again in a perpendicular direction.

Continue etching the floor in small sections. Once you've finished the entire garage, rinse the floor with a garden hose, starting in your first corner and moving forward. Continue rinsing until the water runs completely clear. Allow the floor to dry at least 4 hours.

TOH Tip: Stubborn, dark discolorations may be the sign of a set-in oil stain, which will require additional scrubbing with fresh solution.