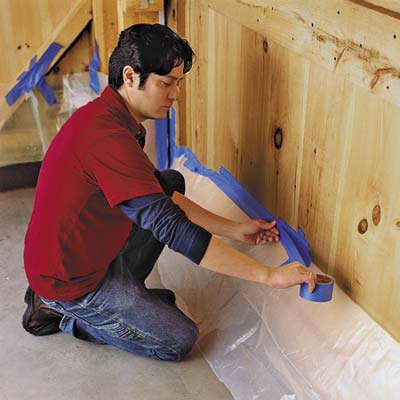 Using painter's tape, stick plastic sheeting to the walls along the edge of the foundation, or at the height to which you will apply the epoxy up the walls. Sweep the floor thoroughly to remove dirt and dust. Using an old paintbrush, dust out corners and seams. If your floor was not previously painted, skip to Step 2.

For painted floors: Using a floor maintainer fitted with a light-sanding pad, scuff the paint to degloss it. Sweep away the dust. Then, using a bristle broom, scrub down the surface with an all-purpose cleaner. Rinse the floor thoroughly and let it dry for at least 4 hours. Continue with Step 3.

TOH Tip: To check if the floor is clean, stick a strip of duct tape to it once it's dry, then peel it away. If you see any dust or particles on the tape, clean the floor again.