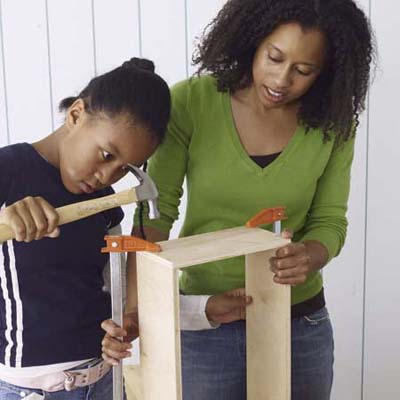 Hammer 4d finish nails at the corners, through the ends of the small sides, and into the long sides. Do this for all four corners, using four nails along each side.

Remove the clamps. Run a bead of glue along the bottom edges, and lay the bottom piece over the sides. Clamp the bottom piece on, then nail it in place with 4d finish nails.

Glue and nail the tool holder insert to the side of the handle. Put glue on the side edges of the handle and on the outer corner of the tool holder, and place the whole assembly in the toolbox. Clamp, then nail it in place.

Using a nailset, sink all the nails below the surface. Fill the holes with stainable wood putty. Let it dry, then sand it smooth.

To parents: Setting nails is tricky. Have your kids practice on scrap wood first, or do this step yourself. Kids can still help out by filling the nail holes with putty and sanding it when it's dry.