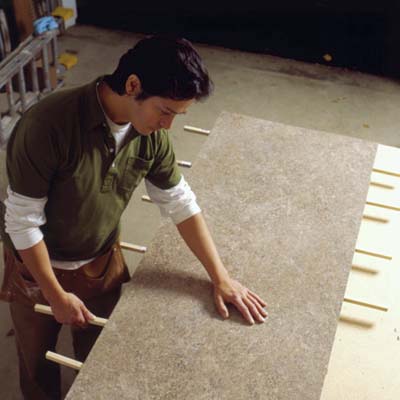 Lay wood scraps or dowels across the substrate every 12 inches or so. Flip the laminate so that it is adhesive-side down, and rest the sheet on top of the scraps without allowing it to touch the substrate. Align the laminate's edges with the edges of the substrate, allowing
½
-inch overhang on all sides.
Starting in the middle, remove a scrap and press the laminate down. Working out from the center, continue removing scraps and pressing the sheet into place, until the whole sheet is adhered. Roll over the counter with the J-roller, using firm strokes.
Using the trim router, cut off the excess around the perimeter. Then create an even bevel with a file. Hold the file at a consistent 45-degree angle to the edge, and carefully push it away from you along the entire perimeter without changing the angle.