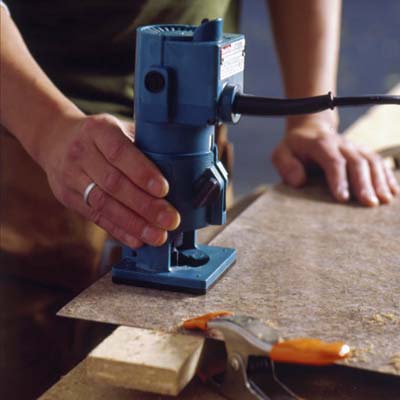 Carefully unroll the laminate and lay it on a flat surface, faceup. Add 1 inch to the length and width of the counter and mark these dimensions on the face. Clamp the sheet to a straight length of lumber at each mark. Line the marks up with the edge of the lumber.
Using a trim router fitted with a laminate-cutting bit, cut the sheet along the mark. Use the lumber as a guide for the router bit. Always cut laminate good side facing up.
Mark out the side strips—2
½
inches wide and an inch longer than the sides—from the remaining pieces. Cut these strips with the keep piece off the lumber. Project the cutline
½
inch past the edge (to account for the router bit's width).
TOH Tip:
When using a router, cut from left to right as you face the edge (and the tool is upright), to keep the bit from pulling.