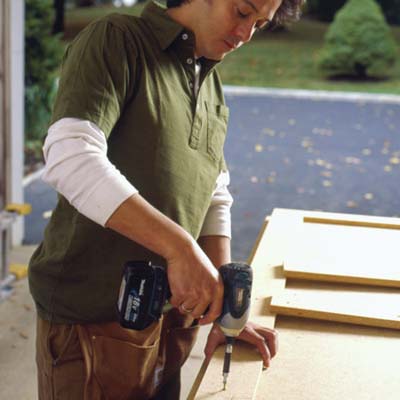 Using a circular saw, cut a sheet of particleboard to fit your countertop, adding a 1-inch overhang to edges that don't abut a wall. Cut 4-inch strips of particleboard to line the underside of each edge. Glue and screw the strips to the sheet with 1
¼
-inch screws. Make sure the edges are perfectly flush. If you will be connecting two countertop sections, size and arrange the strips on one piece to extend beyond the end of the sheet and fit under the adjacent piece (see overview). Use shorter strips on the other piece to accept the extensions.
Dry-fit the countertop sections before laminating them, and make sure pieces fit tightly. Sand the seam with 100-grit paper to correct any mismatches.
TOH Tip:
To make a really tight seam between two particleboard pieces, back-cut the end of one piece by tilting your circular saw blade to 5 degrees.