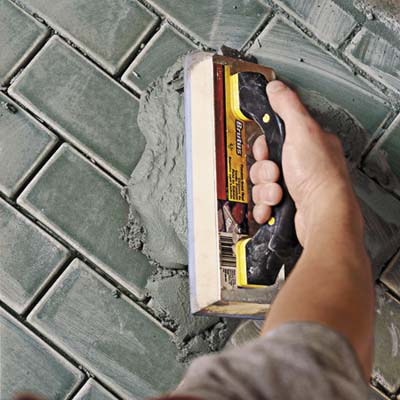 Using a grout sponge and/or a putty knife, clean out any joints where the thinset has squeezed out. Once the tiles are set, clean, and evenly spaced, leave the thinset to dry for 24 hours. Remove the spacers.

Following the directions on the packaging, mix the grout with water until it resembles peanut butter. Using a grout float held at at angle, spread a layer of grout diagonally across the joints, pushing the mix between the tiles. Work the float in all directions to ensure all the joints are full; never sweep it parallel to the joints or it will catch in the gaps and pull up the mix. Do not grout the joint around the edge of the hearth.

Once the joints are well packed, turn the float on edge and, again sweeping diagonally across the joints, scrape off the excess grout. Let the grout dry about 30 to 60 minutes, until firm to the touch.

Dampen a grout sponge and squeeze out the excess water. Wipe the surface of the tiles in a circular motion to clean off the excess grout. Once the tiles look fairly clean, leave the grout to dry overnight, until a thin haze covers the tiles. Then, using a clean, dry rag, buff off the haze.

Fill the joint around the perimeter of the hearth with caulk that matches the grout. Smooth the caulk with a wet finger. Allow the hearth to set for another two or three days before building a fire.