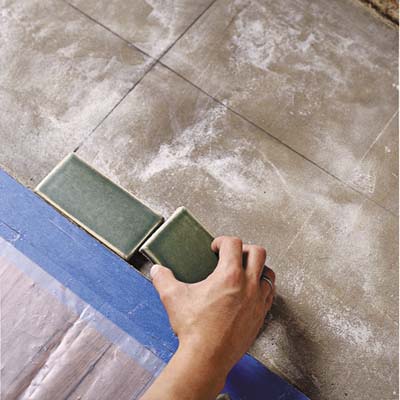 Measure the firebox opening behind the hearth and determine its center point. Extend that location to the hearth and draw a line on the substrate, bisecting it. If the center is close to an obvious mortar line or other focal point on the firebox, draw the bisecting line at that point. Then find the center of the hearth front to back and draw another line through it perpendicular to the first, so that the hearth is divided into quadrants.

Starting at the front edge of the hearth, dry-lay a line of tiles in one of the quadrants, beginning at the center line and moving out to the edge. Make sure to leave space between the tiles to account for grout. Mark edge tiles that need to be cut. If any cuts would create a tile less than 1 inch, cheat the grout lines to absorb this measurement rather than use a tile sliver.

Continue filling in the quadrant until you reach the center line front to back, following the pattern you've determined you want for the layout. If the tiles at the center extend above the line, mark a new reference line along their edge.

Dry-lay tiles in this manner until you fill the the whole hearth area. Mark tiles at the back edge for cuts, if necessary.

Tip: Once you have a satisfying layout, transfer all the tiles, in order, to a board to keep track of where they go.